Deprecated
: wp_make_content_images_responsive is
deprecated
since version 5.5.0! Use wp_filter_content_tags() instead. in
/home/runcloud/webapps/app-attento-dev/wp-includes/functions.php
on line
4779
Deprecated
: wp_make_content_images_responsive is
deprecated
since version 5.5.0! Use wp_filter_content_tags() instead. in
/home/runcloud/webapps/app-attento-dev/wp-includes/functions.php
on line
4779
Deprecated
: wp_make_content_images_responsive is
deprecated
since version 5.5.0! Use wp_filter_content_tags() instead. in
/home/runcloud/webapps/app-attento-dev/wp-includes/functions.php
on line
4779
Atento Virtual Hub
Virtual Hub was born as an add-on solution for Atento@Home
Deprecated
: wp_make_content_images_responsive is
deprecated
since version 5.5.0! Use wp_filter_content_tags() instead. in
/home/runcloud/webapps/app-attento-dev/wp-includes/functions.php
on line
4779
Atento Virtual Hub is a single centralized point to manage all remote operations of a team as a whole, from agent recruiting and training to campaign development, everything under strict security protocols managed on an agile way with a global approach.
Superior value with a holistic service view.
The development of our Virtual Hub comes after maturity acquired with the Atento@Home platform. This command center has been designed to optimize operations in telecommuting models. Our Virtual Hub offers high flexibility based on cloud technology. It is not limited to a specific location and can be adapted to our customer's operational needs in minimal time. Any company, regardless of the sector, can have a hub that can also be connected with offices worldwide, achieving global operational management through the following pillars: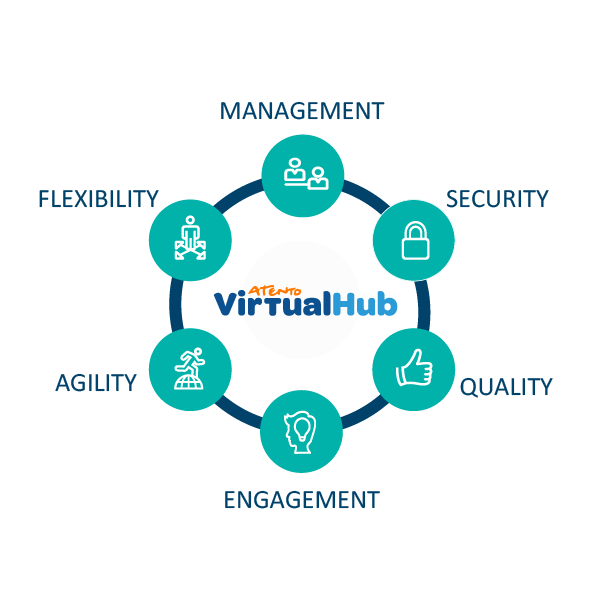 Management:
Real time monitoring

Security:
Frontline supervision and support​

Quality:
Technology and infrastructure that guarantee management quality

Engagement:
Quality connection EVERYWHERE


Flexibility:
Can be implemented anywhere
Atento Virtual Hub Global Launch
Watch how it works.